220mm pre-painted figure will be shipped in late September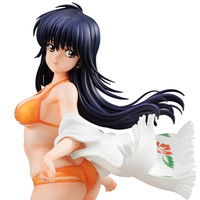 Izumi Matsumoto's Kimagure Orange Road was one of Weekly Shonen Jump's most popular series in the mid-1980s, along with Akira Toriyama's Dragon Ball, Tsukasa Hojo's City Hunter, and Masami Kurumada's Saint Seiya. It also had several successful anime adaptations, featuring characters designed by Akemi Takada (Urusei Yatsura, Creamy Mami, Mobile Police Patlabor).
In order to fulfill the nostalgia of the fans who were boys at the time, Megahouse will release a 220mm-tall pre-painted figure of the manga's main heroine, Madoka Ayukawa, from its "Heroine Memories" line. The figure is based on her swimsuit illustration on the cover of the manga's third tankobon volume originally published in May 1985. The price is 12,000 yen (about 110 US dollars), and it will be shipped in late September of this year.
Manga's original third volume cover
Megahouse "Kimagure Orange Road Ayukawa Madoka"
Source: Megahouse press release