New male idol anime is directed by Eiji Suganuma (Kodomo no Jikan, Sasameki Koto)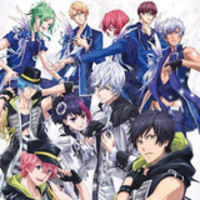 The official website for the upcoming TV anime B-Project -Kodou*Ambitious- today updated with a main visual drawn by its character designer Toshie Kawamura (Yes! PreCure 5, Smile PreCure!), and also announced its additional voice cast including Kaneko Hisamoto (Yayoi Kise/Cure Peace in Smile PreCure!, Ika Musume in Squid Girl) as the protagonist Tsubasa Sumisora.
The character is a rookie A&R at Gandhara Music, and is ordered to take charge in the male idol group B-PROJECT which has three in-units: Kitakore, THRIVE and MooNs. The TV anime also adds Kosuke Torimi as Tsubasa's superior Sakutaro Yashamaru, Kazuyuki Okitsu as Daikoku Production's president Atsushi Daikoku, and Daisuke Namikawa as Brave Entertainment's president Shuji Daikoku. Kitakore and THRIVE belong to Daikoku, while MooNs is under the management of Brave.
The TV anime is based on a new project featuring fictional male idol characters designed by Utako
Yukihiro (Uta no Prince-sama manga illustrator). 45-year-old J-Pop singer Takanori Nishikawa, who has
performed as T.M.Revolution, co-produces the project with Chiyomaru Shikura (Steins;Gate, Robotics;Notes).
Eiji Suganuma (Kodomo no Jikan, Sasameki Koto) servers as the director alongside series composition
writer Deko Akao (Snow White with the Red Hair, Flying Witch). The A-1 Pictures-animated series is set
to premiere in Japan on July 2.
Main visual
Tsubasa Sumisora, Sakutaro Yashamaru
Atsushi Daikoku, Shuji Daikoku
Kitakore
THRIVE
MooNs
Source: press release
© B-project