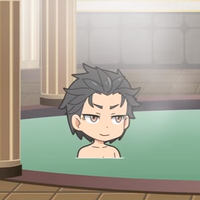 La web oficial de la adaptación televisiva animada de la serie de novelas Re:ZERO -Starting Life in Another World- escritas por Tappei Nagatsuki e ilustradas por Shintaro Otsuka ha colgado el quinto de los cortos spinoff que se emiten tras cada episodio del anime. Los cortos llevan por título Re:Zero Kara Hajimeru Break Time y presentan a los personajes en versión super-deformed.
Los cortos cuentan con el mismo reparto que la serie animada principal, incluyendo a Yusuke Kobayashi como Subaru Natsuki, Rie Takahashi como Emilia y Yumi Uchiyama como Pack.
Minoru Ashina (Otaryman, ONA de Madan no Ou to Vanadis) es el director, guionista y productor de los cortos bajo Studio Puyukai. Minoru Takehara (ONA de Madan no Ou to Vanadis) se encarga del diseño de los personajes super-deformed y aparece también como responsable de la animación junto a Chisato Totsuka y Sumi Kimoto. La música es de Kenichiro Suehiro, los efectos de sonido de Tomoji Furuya de Suwara Pro, y la dirección de sonido de Jin Aketagawa bajo Magic Capsule.
Fuente: ANN