Latest issue comes with a "KING OF PRISM by PrettyRhytm" marriage paper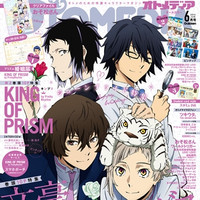 Japanese publisher Gakken Plus today announced that the latest June 2016 issue of its popular anime specialized magazines for female fans, Otomedia, will get a second print run for the second time in the magazine's history. The issue was published on May 10, then it was reportedly sold out immediately at many stores in Japan. As reported, the magazine's February 2016 issue with the Dance with Devils cover illustration was the first issue that got the second print.
The ongoing TV anime Bungo Stray Dogs is featured on the cover of the June issue. And because the main theme is "June Bride," the issue also comes with a marriage registration paper using images of KING OF PRISM by PrettyRhytm. The reprints of the issue is expected to be shipped around May 30.
【重版のお知らせ】オトメディア編集部です。
オトメディア6月号は好評につき重版が決定いたしました。
5月30日(月)以降一部店舗およびネット書店に並ぶ予定です。
店頭にて品切れの場合5月30日(月)以降に書店にて注文して下さい pic.twitter.com/gXR9figDGI

— オトメディア編集部 (@gakken_otomedia) 2016年5月26日
Source: press release