Need to keep recent on "CCS" events? This newspaper should help!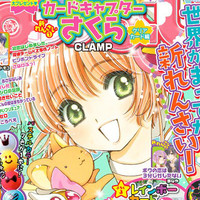 Card Captor Sakura is getting its own newspaper, the Card Captor Sakura Serial Newspaper, as part of the Takara Tomy booth at the International Tokyo Toy Show that's being held June 9-12. It'll be up for grabs for free, and there'll be a special booth at the show hosted by the adorable Kero-chan himself.
As part of the special 20th anniversary revival of the Card Captor Sakura franchise, the newspaper will have additional information about the projects floating around right now following the series. Nakayoshi just launched a sequel to the original manga on June 3, and in the same issue a brand new revival of the anime was announced. Exciting news!
It looks like there's a whole wealth of new Card Captor Sakura news coming soon, so this is only the tip of the iceberg!
[via Anime News Network]
-------
Fueled by horror, rainbow-sugar-pixel-rushes, and video games, Brittany is a freelancer who thrives on surrealism and ultraviolence. Follow her on Twitter @MolotovCupcake and check out her portfolio for more.