Starts Monday, July 11th at 9:30am PT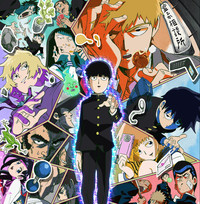 Previously announced during the Crunchyroll Summer ROLLOUT special, we finally have launch date and regions for 100 Mob Psycho, the latest anime from the mind of ONE, creator of One Punch Man!
Mob Psycho 100 launches Monday, July 11th at 9:30am PT for Crunchyroll members worldwide except for Asia.
About Mob Psycho 100
Kageyama Shigeo, a.k.a. "Mob," is a boy who has trouble expressing himself, but who happens to be a powerful esper. Mob is determined to live a normal life and keeps his ESP suppressed, but when his emotions surge to a level of 100%, something terrible happens to him! As he's surrounded by false espers, evil spirits, and mysterious organizations, what will Mob think? What choices will he make? The anime based on the original story by ONE, the idol of the webcomic world and creator of One-Punch Man, is coming your way with animation by leading animation studio Bones!
Setsuo Ito stars as Kageyama "Mob" Shigeo, a psychic 8th-grader who tries to stay unnoticed and unexcited to avoid causing problems with his powers. Takahiro Sakurai is Mob's fraud psychic mentor, Reigen Arataka.
Death Parade's Yuzuru Tachikawa directs with Seraph of the End's Hiroshi Seko writing and One-Punch Man animator Yoshimichi Kameda on character designs. Ghost in the Shell composer Kenji Kawai is on music. New vocal unit MOB CHOIR performs opening "99" along with Heavy Object's ALL OFF on ending "Refrain Boy."
Cast includes:
"Mob" Shigeo Kageyama - Setsuo Ito
Arataka Reigen - Takahiro Sakurai (Cloud in Final Fantasy VII)
Ekubo - Akio Otsuka (Batou in Ghost in the Shell)
Ritsu Kageyama - Miyu Irino (Jinta in anohana)
Teruki Hanazawa - Yoshitsugu Matsuoka (Kirito in Sword Art Online)
Tenga Onigawara - Yoshimasa Hosoya (Kaito in Ajin)
Ichi Mezato - Ayumi Fujimura (Eiko in Squid Girl)
Tome Kurata - Atsumi Tanezaki (Emilia in Durarara!!)
Tsubomi - Uki Satake (QT in Space Dandy)
STAFF
Original Author - ONE
Director - Yuzuru Tachikawa (Death Parade)
Series Coordinator - Hiroshi Seko (Seraph of the End)
Character Design - Yoshimichi Kameda
Art Director - Ryo Kono
Color Design - Shihoko Nakayama
Director of Cinematography - Mayuko Furumoto
Sound Director - Kazuhiro Wakabayashi
Music - Kenji Kawai
Animation Production - BONES
Patrick Macias is editor in chief of Crunchyroll News & Otaku USA magazine.
He is also the writer of HYPERSONIC music club, Paranoia Girls, & PARK Harajuku: Crisis Team!