Get ready to start singing "Motteke! Sailor Fuku!"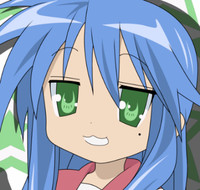 Miss out on Lucky Star's original release? Don't worry, Funimation is releasing the entire series plus the OVA on Blu-ray.
You can pick up the entire set now, and check out the trailer for the series below. Konata is still best girl of course, so don't think anything's going to change in that regard, but if you missed out on a seminal series of the last decade. Seriously.
Pick up Lucky Star here via Funimation!
[via Funimation]
-------
Fueled by horror, rainbow-sugar-pixel-rushes, and video games, Brittany is a freelancer who thrives on surrealism and ultraviolence. Follow her on Twitter @MolotovCupcake and check out her portfolio for more.