Full-color calendar will be available at Summer Comiket first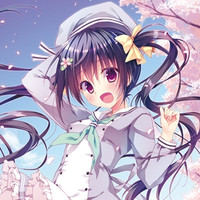 Tokyo-based company RunOut will release the 2017 edition of its daily pad-type calendar featuring full-color girls arts newly drawn drawn by 368 illustrators, "Himekuri 365," in the middle of August. The artists include Mutsumi Sasaki (Chaos;Head), Yuki Takano (Da Capo III), Aoi Nishimata (SHUFFLE!), and Takuya Fujima (Magical Girl Lyrical Nanoha ViVid). For those who want to keep the arts only, two-volume art collection book will be also offered.
The price for the A5-size calendar with 368 pages is 3,000 yen (about 28.64 US dollars), and that for one volume of the A4-size art book is also 3,000 yen. Before the general release at bookstores, both items will be sold at the company's booth (No.2522) in the Comic Market 90 to be held at Tokyo Big Sight from August 12 to 14.
"Himekuri 365" calendar cover art
Art collection book volume 1 cover
Art collection book volume 2 cover
---
January 3 "Hatsumoude" (first visit of the year to a shrine) by Mikeou
June 10 "Toki wo Tsumugu Shoujo" (The girl who spins the time) by Fujichoco
June 19 "Pool Cleaning" by Piromizu
July 1 "Hime Yuri" by Aoi Nishimata
December 24 "Christmas Eve" by Takuya Fujima
December 31 "Oomisoka (New Year's Eve) by Alpha
Source: press release