KanColle action director Shouta Ihata makes his directorial debut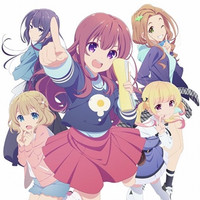 The official website for the upcoming voice acting-themed TV anime Girlish Number today updated with a key visual featuring its five main girls and announced that it will premiere on TBS at 26:28 on October 6 (JST). It is also scheduled to be aired on Sun TV and BS-TBS from October.
The TV anime is part of the media mix project created by Wataru Watari (story) and QP:flapper (original character designs), also including a prequel novel written by Watari, a main manga series illustrated by Yuuki Doumoto, a spin-off Girlish Number momoka memorial by Mami Surada, and a full-color four-panel web manga series Girlish Number Shura by Makoto Ikezawa and Yu Tsurusaki.
Shouta Ihata, who recently worked on the Kantai Collection/KanColle TV anime series as the action director, makes his TV anime directorial debut for Diomedia. Sumie Kinoshita (The Mystic Archives of Dantalian, Medaka Box) serves as the anime character designer/chief animation director.
The OP song "Bloom" and ED song "Imawa Mijikashi Yumemiyo Otome" (The Present is Short, Have
Dreams, Girls) are performed by the newly formed voice actress unit, Girish Number, consisting of
Sayaka Senbongi (Chitose Karasuma), Kaede Hondo (Yae Kugayama), Yui Ishikawa (Koto Katakura),
Eri Suzuki (Momoka Sonou), and Saori Ohnishi (Kazuha Shibasaki). The CD single of the OP song
will be released on November 2, then that of the ED will follow on November 30.
Key visual
TVアニメ『ガーリッシュ ナンバー』キービジュアルを公開!
千歳、八重、京、百花、万葉が活躍する「アイドル声優お仕事ストーリー」、10/6(木)深夜2:28〜 TBSにて放送予定。
お楽しみにお待ちください!#ガーリッシュナンバー pic.twitter.com/b9i4XBDZ6G

— ガーリッシュ ナンバー (@gn_staff) August 26, 2016
PV
【ガーリッシュ ナンバー登場人物①】
烏丸千歳 (CHITOSE KARASUMA)
cv.千本木彩花
見た目はかわいいが性格はクズな新人声優。調子に乗りやすく凹みやすい。モブ役ばかりの現状に危機感がある。#ガーリッシュナンバー pic.twitter.com/BZ7rHYTkE5

— ガーリッシュ ナンバー (@gn_staff) August 26, 2016
【ガーリッシュ ナンバー登場人物②】
久我山 八重 (YAE KUGAYAMA)
cv.本渡 楓
千歳とは声優養成所の同期で友人。天然のあざとさが一部女性から嫌われている。年がら年中ダイエット中。#ガーリッシュナンバー pic.twitter.com/CSNwpjyWOI

— ガーリッシュ ナンバー (@gn_staff) August 26, 2016
【ガーリッシュ ナンバー登場人物③】
片倉 京 (KOTO KATAKURA)
cv.石川由依
千歳と同じ事務所に所属する関西弁のお姉さん。売れていないのでバイトを掛け持ちしている。#ガーリッシュナンバー pic.twitter.com/O3v16JxglV

— ガーリッシュ ナンバー (@gn_staff) August 26, 2016
【ガーリッシュ ナンバー登場人物④】
苑生百花 (MOMOKA SONO)
cv.鈴木絵理
アイドル声優ミュージシャンとして活躍する高校生。両親は業界の大物で、そのこともあって性格は生意気。#ガーリッシュナンバー pic.twitter.com/i78fetjDLR

— ガーリッシュ ナンバー (@gn_staff) August 26, 2016
【ガーリッシュ ナンバー登場人物⑤】
柴崎万葉 (KAZUHA SHIBASAKI)
cv.大西沙織
役者への憧れが強い意識高い系声優。売れっ子だがラノベアニメや役者以外の仕事をやらされる現状が不満。#ガーリッシュナンバー pic.twitter.com/959mTCXAAn

— ガーリッシュ ナンバー (@gn_staff) August 26, 2016
Source: "Girlish Number" TV anime official website
©Project GN/Girlish Number Production Committee