She also performs the theme song for the fall movie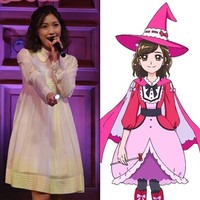 It was confirmed yesterday that Mayu Watanabe, a 22-year-old member of Japanese girl idol group AKB48, will make a guest voice appearance in the upcoming 38th episode of the Mahou Tsukai PreCure!/Maho Girls PreCure! TV anime to be aired on October 23. She has been known as big fan of the PreCure series since she saw the first installment Futari wa PreCure aired in 2004 when she was an elementary school student.
She plays herself called "Mayu," who is a popular idol in Nashi Mohou-kai (No Magic Realm/Human World). Her true identity is a magician who was born in the Magical World, and Mirai and Riko are surprised at seeing her on the stage of the annual event in the Magical World.
The news was announced in the PR event for the upcoming feature film Eiga Mahou Tsukai PreCure! Kiseki no Henshin! Cure Mofurun!/Maho Girls PreCure! The Movie: Miracle Transformation! Cure Mofurun!
held in Tokyo yesterday. Watanabe also performs the theme song for the film, "Tadashii Mahou no
Tsukaikata (The Correct Way to Use Magic)." The 21st PreCure feature film (13th non-All Stars film)
will open in Japan on October 29, 2016.
渡辺麻友「プリキュア」に本人役で出演決定、「これは夢なんじゃないかな」 https://t.co/qtJXzAdSfu #プリキュア #AKB48 pic.twitter.com/XmbpVYKDnJ

— 映画ナタリー (@eiga_natalie) October 12, 2016
AKB48渡辺麻友:「プリキュア!」に本人役で出演へ 「これは夢!?」 https://t.co/DV7nL1Pa7a

— MANTANWEB (まんたんウェブ) (@mantanweb) October 12, 2016
"Eiga Mahou Tsukai PreCure! Kiseki no Henshin! Cure Mofurun!" trailer
"Tadashii Mahou no Tsukaikata" dance lecture video
Flyer visual
via: Movie Natalie, Mantan Web
© ABC, Toei Animation
© 2016 Movie Mahou Tsukai PreCure! Production Committee