Ce sera pour 2017 !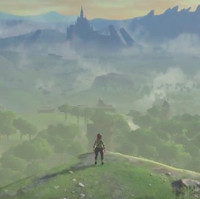 Attendu par tous les possesseurs de Wii U depuis des années, le prochain épisode de la saga se dévoile un peu plus. Le site officiel de Nintendo vient de mettre en ligne quatre nouvelles séquences de jeu de The Legend of Zelda: Breath of the Wild.
La première vidéo met tout simplement en avant la vastitude de l'univers du titre et des activités auxquelles il sera possible de s'adonner, de ses bâtiments en ruine à ses étendues d'eau, en passant par quelques phases d'escalade, de plongée ou tout simplement de contemplation. La deuxième met en avant d'autres activités, telles que la chasse, la cuisine ou quelques combats.
Les deux dernières vidéos, quant à elles, s'intéressent au cycle jour/nuit du jeu et à sa météo dynamique.
The Legend of Zelda: Breath of the Wild est attendu l'année prochaine sur Wii U et sur la nouvelle console de Nintendo, la Switch.
via ANN