Newest MCU film will be released in Japan in January 2017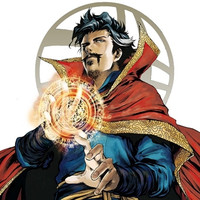 To promote the live-action film's upcoming release in Japan on January 27, 2017 (three months later than the US, by the way), a one-shot prequel manga titled "Doctor Strange: Episode 0" will be published in the 52nd issue of Kodansha's Weekly Shonen Magazine to be released on November 22. It tells an original story focusing on the protagonist Stephen Strange's various activities as an acclaimed but arrogant neurosurgeon before the film.
The prequel manga is illustrated by Haruichi, who won the second newcomer merit award in the young category of the 70th Chiba Tetsuya Award in 2014 when he was 21. You can read his winning work "Prideback" here. He says, "The film itself has a 200 percent fun, but with the power of my manga, I want to exceed your expectation as much as possible. I will draw with all my love for Marvel. Look forward to it!"
カンバーバッチ主演「ドクター・ストレンジ」の前日譚、マガジンに登場 https://t.co/ceUq8BGxTq pic.twitter.com/WjHKJM3UIp

— コミックナタリー (@comic_natalie) November 7, 2016
"Doctor Strange" Japanese trailer
via: Comic Natalie