Second arrest for "your name." illegal uploading is also reported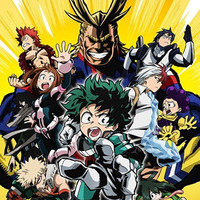 On November 29, Gunma Prefectural Police arrested a 35-year-old newspaper delivery man from Sendai-city, Miyagi Prefecture, on suspicion of using the file sharing software Perfect Dark to illegally upload two files including the TV anime My Hero Academia. According to the police investigation, the suspect made the files available to the public on the internet without the permission from the anime's two copyright holders in Tokyo between May 29 and July 1. He has already admitted the charge, saying "I wanted to show the good anime to other people."
Meanwhile, Gifu Prefectural Police referred a 36-year-old unemployed man residing in Naha-city, Okinawa Prefecture, to the Public Prosecutors Office on a charge of alleged copyright infringement (violation of public transmission rights) on November 24. The man is suspected of uploading a file of Makoto Shinkai's anime film Kimi no Na wa./your name. onto the internet using the file sharing software
Share around October 20. This is the second criminal charge for illegal uploading of the film following
the 54-year-old unemployed man in Kanagawa Prefecture early this month. As with the first one, the
video file included English and Chinese subtitles.
As reported, the production committee of the film opened an official Twitter account dedicated to the
copyright protection under the name "Movie Kimi no Na wa Production Committee Copyright Manager"
in September, and has been posting their messages to ask people not to watch the film by illegitimate
means.
"My Hero Academia" image © Kohei Horikoshi/Shueisha, My Hero Academia Production Committee
---
Related:
Tokyo Police Exposed Game Centers in Akihabara for Offering Counterfeit "Love Live!" Prizes
Japanese Police Arrested 51-year-old Man for Uploading Anime Music illegally for 10 Years
54-Year-Old Unemployed Man Arrested for Illegally Uploading "your name."
Kyoto Police Arrested Two Chinese Men for Illegally Uploading "Arslan," "Prisma Illya" Anime
70-year-old Man Stealing Shonen Jump before Release Found Guilty, 10 Months in Prison
Japanese Police Arrested 44 People for Illegal Uploading in Three Days
30-year-old Unemployed Man Arrested for Uploading "Kingdom" Manga
38-year-old Man Arrested for Posting "GATE" Episodes onto Video Sharing Site
Another 2 Chinese Arrested for Uploading "The Seven Deadly Sins" Manga
4 Men Arrested for Posting "One Piece" Latest Chapter Before Release
Police Arrested Man Who Posted Robot Anime Videos, Theme Songs
50-Year-Old Unemployed Man Arrested for Uploading Manga via PerfectDark
High School Teacher Arrested for Uploading "Kuroko's Basketball" Manga
Unemployed Man Arrested for Uploading "Liar Game" Manga
40 People Arrested for Illegal Uploading of Anime, TV Drama in 3 Days
Government Official Arrested for Posting "Gundam Unicorn" Episodes onto Video Sharing Site FC2
48-year-old Man Arrested for Uploading "Yo-Kai Watch" Anime Episode