Makoto Shinkai's "Kimi no Na wa." novel tops the bunko chart of 2016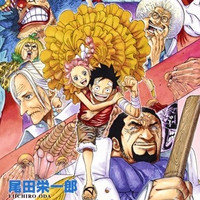 Oricon, a data compiling company specializing in providing data for the Japanese music/book industry, today announced the 2016 best-selling book annual rankings, which were compiled between November 23, 2015 and November 20, 2016. As expected, Eiichiro Oda's One Piece dominates the yearly manga sales ranking for nine consecutive years since 2008 by selling 12.314 million copies in total. However, the yearly sales is down 9% from the last year's 14.102 million copies. Its best-selling volume was the 80th released on December 28, 2015, and has sold 2.981 million copies in Japan.
Coming in the second is Yusei Matsui's Ansatsu Kyoshitsu/Assassination Classroom that jumped up from the last year's fourth, selling 6.887 million copies during the period. The school comedy/suspense manga ended its serialization in Shueisha's Weekly Shonen Jump in March. Its final 21st volume tankobon was released in July and has sold 830,176 copies so far. The last year's second top-selling title, Nakaba Suzuki's The Seven Deadly Sins dropped to 6th with a huge 50% sales down, while
Kohei Horikoshi's Boku no Hero Academia/My Hero Academia and ONE and Yusuke Murata's One-Punch
Man newly join the top 10.
In addition, Makoto Shinkai's Kimi no Na wa./your name. novel, based on his anime feature film of the
same name, tops the bunko chart of 2016, selling an impressive 1,196,994 copies.
---
2016 Manga Sales Ranking Top 10 (series)
1 (1). One Piece - 12,314,326 (14,102,521 in 2015)
2 (4). Assassination Classroom - 6,887,192 (8,605,861)
3 (5). Kingdom - 6,595,968 (8,569,215)
4 (3). Attack on Titan - 6,544,081 (8,778,048)
5 (6). Haikyu!! - 6,474,394 (6,531,508)
6 (2). The Seven Deadly Sins - 5,115,573 (10,304,112)
7 (-). My Hero Academia - 5,114,916
8 (10). Tokyo Ghoul:re - 4,278,599 (3,758,541)
9 (-). One-Punch Man - 3,979,760
10 (7). Shokugeki no Soma - 3,477,128 (4,321,830)
---
2016 Manga Sales Ranking Top 25 (volume)
1. One Piece 80 (2,981,494)
2. One Piece 81 (2,696,528)
3. One Piece 82 (2,532,488)
4. One Piece 83 (2,810,583)
5. Attack on Titan 18 (1,983,248)
6. Attack on Titan 19 (1,746,669)
7. Attack on Titan 20 (1,554,398)
8. Hunter X Hunter 33 (1,272,692)
9. Assassination Classroom 18 (1,027,550)
10. Assassination Classroom 17 (1,009,268)
11. Haikyu!! 19 (1,002,154)
12. Tokyo Goul:re 5 (997,020)
13. Tokyo Goul:re 6 (957,057)
14. Haikyu!! 20 (956,003)
15 Assassination Classroom 20 (939,893)
16. Assassination Classroom 19 (930,105)
17. One-Punch Man 10 (912,269)
18. Haikyu!! 22 (882,840)
19. Haikyu!! 21 (875,062)
20. Tokyo Goul:re 7 (867,287)
21. One-Punch Man 11 (864,381)
22. Assassination Classroom 21 (830,176)
23. Tokyo Goul:re 8 (800,557)
24. Yotsub&! 13 (793,502)
25. Haikyu!! 23 (782,695875,062)
---
Source: Oricon
One Piece image © Eiichro Oda/Shueisha