Tetsuya kuroko's birthday secail version cake is also offered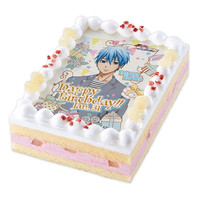 Following the well-received Love Live! Sunshine!! and Gintama ones, Bandai's official online store Premium Bandai today also starts accepting pre-orders for character-printed cakes featuring seven main boys from the Kuroko's Basketball franchise. These cakes are the third lineup from Bandai's newly-launched "CharaDeco Print Cake" line that offers character cakes drawn with edible color inks.
The seven regular cakes are scheduled to be shipped in early February 2017, but the special birthday version for Tetsuya Kuroko, who will cerebrate his birthday on January 31, will be available from late January. The size of all cakes is 11x15x5cm and the price is 2,970 yen (about 26 US dollars). Pre-orders for the regular cakes will be accepted till January 5, and that for the Kuroko birthday cake will end on December 31.
Tetsuya Kuroko cake (regular version)
Tetsuya Kuroko cake (birthday version)
Taiga Kagami cake
Ryota Kise cake
Shintaro Midorima cake
Daiki Aomine cake
Atsushi Murasakibara cake
Seijuro Akashi cake
---
"Love Live! Sunshine!!" Chara Deco Print cakes
"Gintama" Chara Deco Print cakes
Source: Premium Bandai oress release
(C) Tadatoshi Fujimaki/Shueisha, Kuroko's Basketball Production Committee