5-song mini album is produced by HAKUEI (PENICILLIN vocalist)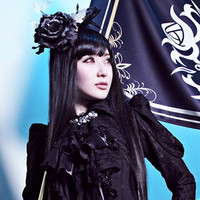 TMS Music, a music subsidiary of anime production company TMS Entertainment, has opened the official website for 29-year-old anime voice actress/singer Eri Kitamura, and posted teaser and message videos for her upcoming mini album "Revolution 【re:i】" to be released in Japan on March 22. She is repped by EARLY WINGS and as reported, changed her record company from Starchild (King Records) to TMS Music in November 2016. "Revolution 【re:i】," her first CD released by her current record company, is produced by HAKUEI, the vocalist of Japanese rock band PENICILLIN. and .
She is best known as Saya Otonashi in Blood+ (2005), Miki Aono/Cure Berry in Fresh PreCure! (2009-2010) and Sayaka Miki in Puella Magi Madoka Magica (2011-2013). She is set to voice Izumo Kamiki in Blue Exorcist: Kyoto Saga and Akane Senri in Rewrite 2nd Season in this winter 2017 season.
"Revolution 【re:i】" teaser movie
Video message
CD jacket design (tentaitive)
公式サイト新設とか嬉しみhttps://t.co/syMJrA9VZC
良いお年をば・:*+.\(( °ω° ))/.:+ pic.twitter.com/6q2KxnwKx4

— KITAxERI ☻ \m/ 直往邁進༄ (@KITAxERI) December 31, 2016
あけおめ
キタエリ
ことよろ

たくさんデビュー()してますけど
ミニアルバムは1stであってますʕ⁎̯͡⁎ʔ༄

念願の吹き替えのお仕事も増えてきて
2017年は直往邁進しています!!! pic.twitter.com/FQd2lMx4MZ

— KITAxERI ☻ \m/ 直往邁進༄ (@KITAxERI) December 31, 2016
革命といえば
ジャンヌダルクやナポレオン
の象徴である
旗!!!
みんなで叫ぼうぞ

とらすとれいっ\\\\٩( 'ω' )و //// pic.twitter.com/VeONauMnGR

— KITAxERI ☻ \m/ 直往邁進༄ (@KITAxERI) January 3, 2017
Eri Kitamura artist illustration
Source: TMS Music's Eri Kitamura official wesbite