5th single "Ikken Rakuchaku Goyoujin" hits stores February 15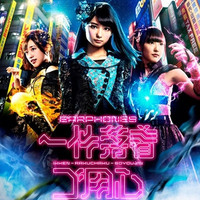 The official YouTube channel for three-member voice actress unit Earphones has posted a five-minute full music video for their upcoming 5th single song "Ikken Rakuchaku Goyoujin" (Case Closed, Be Careful), the OP theme for the ongoing TV anime Akiba's Trip The Animation that premiered on January 4. 68-year-old veteran singer Akira Kushida, who is well known for his theme song works for Combat Mecha Xabungle, Kinnikuman, and Toei's Space Sheriff tokusatsu series in the mid-1980s, also makes a guest appearance in the clip as well as the recording of the song.
The unit was formed by Marika Kouno, Rie Takahashi and Yuki Nagaku originally for the summer 2015 TV anime Sore ga Seiyu!/Seiyu's Life! and has released four singles including the OP and ED theme songs for the anime. Their 5th single CD will be released in two editions on February 15.
The TV anime Akiba's Trip The Animation is now available to Crunchyroll members in US, Canada, UK,
Ireland, South Africa, Australia, New Zealand, Iceland, Sweden, Norway, Denmark, Netherlands.
"Ikken Rakuchaku Goyoujin" MV
30-second CM
Artist edition CD jacket
Anime edition
"Akiba's Trip The Animation" main visual
2nd PV featuring the OP song
Source: Earphones official website
© KING RECORD CO., LTD.
©2017 ACQUIRE Corp./AKIBA'S TRIP FILM PARTNERSHIP