All of the voice cast from the game will reprise their roles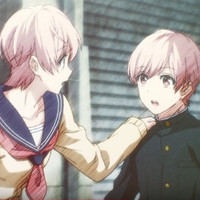 The official website for Kenka Banchou Otome -Girl Beats Boys-, the upcoming TV anime adaptation of Spike Chunsoft's otome game for PS Vita, Kenka Banchou Otome released in May 2016, today posted a 60-second 1st PV introducing its main characters.
The clip features "Fast Impact," one of the soundtrack tunes for the anime composed by Hayato. The artist also serves as the producer of Love Desire, the four-member vocal unit who perform the anime's OP and ED songs. The members of the unit are scheduled to make their voice actor debut in the anime.
While all of the original voice actors of the game are confirmed to reprise their roles in the anime as well, the voice actress for the female protagonist Hinako Nakayama has not yet been revealed. The 10-minute short series is animated by project No.9 (And you thought there is never a girl online?) and A-Real
(Urawa no Usagi-chan) with Noriaki Saito (Log Horizon, Love Live! episode director) directing, and is
set for a Spring 2017 premiere in Japan.
"Kenka Banchou Otome -Girl Beats Boys-" 1st PV
Main Voice Cast:
Totomaru Minowa: KENN (Hijiri Mutsuki in Scared Rider Xechs)
Takayuki Konparu: Shouta Aoi (Ai Mikaze in Uta no Prince-sama)
Rintaro Kira: Yoshimasa Hosoya (Orga Itsuka in Mobile Suit Gundam: Iron-Blooded Orphans)
Yuta Mirako: Tetsuya Kakihara (Natsu Dragneel in Fairy Tail)
Houou Onigashima: Tomoaki Maeno (Haruitsuki Abeno in The Morose Mononokean)
Hikaru Onigashima: Tsubasa Yonaga (Nagisa Hazuki in Free!)
Haruo Sakaguchi: Takashi Kondo (Avilio Bruno in 91 Days)
PV for the PS Vita game
OP movie for the game
Source: TV anime "Kenka Banchou Otome -Girl Beats Boys-" official website
© Spike Chunsoft Co., Ltd./Shishikou Academy Council