3,240-yen game is based on the novel's "The Aincrad Arc"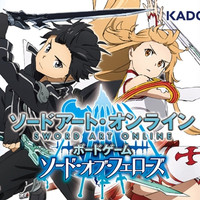 Kadokawa has announced that a board game for one to four players inspired by the Sword Art Online anime franchise, titled "Sword Art Online Board Game: Sword of Fellows" will be released at the price of 3,240 yen (about 28.45 US dollars) on June 29. The game is developed by Arclight and designed by Seiji Kanai, who is known for his works for Arclight's popular board game Love Letter and Qbist's R-Rivals.
The story of the game is based on the franchise's first arc, "The Aincrad Arc," which was also told in the first season of the TV anime series. In the game, as Kirito, Asuna and other anime characters, the players must defeat monsters to survive and climb to the highest level of Aincrad. The game set includes six character cards, ten scenario cards, eight item cards, one support card, four main dice, four support dice, six character dice, and 30 tokens. The required time for one play is about 30 minutes and the suggested age is 10 and over.
Source: Kadokawa press release
©2016 Reki Kawahara/KADOKAWA Ascii Media Works/SAO MOVIE Project