Tsutaya has ordered 5,000 more discs for its stores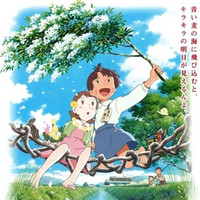 56-year-old Sunako Katabuchi's previous anime feature film Maimai Shinko to Sen-nen no Mahou/Mai Mai Miracle based on Nobuko Takagi's autobiography novel was released in Japan in November 2009 and failed at the box office at the time. Its first run at theaters was cancelled after only three weeks of release, then the director, who has a wife and two children, had been in straitened circumstances for years. At the worst time, he could spend only 100 yen for food for his family members in a day.
But thanks to the recent critical and commercial success of his anime film adaptation of Fumiyo Kouno's award-winning manga Kono Sekai no Katasumi ni/In This Corner of the World, which has earned a huge 2 billion yen from its domestic run, demand for Mai Mai Miracle at the DVD rental stores in Japan has increased rapidly. Answering to the huge demand, Tsutaya, the largest rental CD/DVD chain in Japan, added 5,000 more discs of the film to its stores across Japan on January 26. Then the chain announced yesterday that the DVD rental number for the film has skyrocketed to 9 times compared
to six months ago, September 2016, before In This Corner of the World was released.
The number of the DVD rentals at the Tsutaya stores from September 2016 to February 2017
Theatrical poster
Official trailer
Source: Tsutaya press release