A member of the infamous Chinese fansub group "Subtitle Team"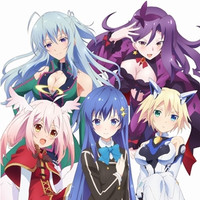 Japanese police's investigation against anime piracy still continues. Kyoto Prefectural Police arrested a 26-year-old Chinese man on suspicion of copyright infringement yesterday, February 16. The suspect claims himself as an office worker, but currently has no fixed address.
According to to the police, the man illegally downloaded the fifth episode of the TV anime Ange Vierge at his apartment at the time in Nerima Ward, Tokyo, around on August 7, 2016 (In addition to uploading, knowingly downloading illegally uploaded copyrighted materials, such as videos, music, and leaked magazine pages before release, is also considered as crime in Japan). Then he uploaded the video onto the internet using a file sharing software without permission from the copyright holder of the anime on September 25 of the same year. He has already admitted his charge.
Kyoto Police has confirmed that he is a member of a Chinese fansub group, called "字幕組" (Subtitle
Team). Back in September 2016, the police arrested two Chinese men for uploading episodes of The
Heroic Legend of Arslan: Dust Storm Dance and Fate/Kaleid liner Prisma Illya 3rei!!. It was the first
arrest case of the infamous group's members in Japan.
When the suspect uploaded the video onto the net, it had no Chinese subtitles, but someone added it
later. The police is still investigating the case to find other members involved in the crime.
Source: Sankei West
"Ange Vierge" anime image © KADOKAWA,SEGA/Ange Vierge Film Partners
---
Related:
Two Chinese Men Arrested for Selling Fake "Lyrical Nanoha" Hug Pillow
35-Year-Old Man Arrested for Uploading "My Hero Academia" Anime via Perfect Dark
Tokyo Police Exposed Game Centers in Akihabara for Offering Counterfeit "Love Live!" Prizes
Japanese Police Arrested 51-year-old Man for Uploading Anime Music illegally for 10 Years
54-Year-Old Unemployed Man Arrested for Illegally Uploading "your name."
Kyoto Police Arrested Two Chinese Men for Illegally Uploading "Arslan," "Prisma Illya" Anime
70-year-old Man Stealing Shonen Jump before Release Found Guilty, 10 Months in Prison
Japanese Police Arrested 44 People for Illegal Uploading in Three Days
30-year-old Unemployed Man Arrested for Uploading "Kingdom" Manga
38-year-old Man Arrested for Posting "GATE" Episodes onto Video Sharing Site
Another 2 Chinese Arrested for Uploading "The Seven Deadly Sins" Manga
4 Men Arrested for Posting "One Piece" Latest Chapter Before Release
Police Arrested Man Who Posted Robot Anime Videos, Theme Songs
50-Year-Old Unemployed Man Arrested for Uploading Manga via PerfectDark
High School Teacher Arrested for Uploading "Kuroko's Basketball" Manga
Unemployed Man Arrested for Uploading "Liar Game" Manga