Production Committee has been asking people not to watch the film by illegal means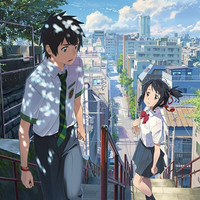 Osaka Prefectural Police announced yesterday that they had arrested three men in the prefecture, including a 48-year-old local government worker, on suspicion of copyright infringement (infringement of public transmission rights), and sent the cases to the Kishiwada District Public Prosecutors Office on February 20.
According to the police investigation, the three are accused of infringing the copyright of Makoto Shinkai's anime film Kimi no Na wa./Your Name. owned by seven companies including the film's distributor Toho. They used the file-sharing software Share to upload the film's file onto the internet and made it downlodable to the general public without the copyright holders' permission from September to October of 2016. All of them have reportedly admitted the charge and said that they downloaded the file to watch by themselves.
The video file includes English and Chinese subtitles and is considered as one of the samples that were
distributed only to the people concerned in the film industry. Back in November 2016, Shizuoka Prefectural
Police arrested a 54-year-old unemployed man in Kanagawa Prefecture for uploading the file also using
the same software.
As reported, the production committee of the film has opened an official Twitter account dedicated to the
copyright protection under the name "Movie Kimi no Na wa Production Committee Copyright Manager" last
September, and has been posting their messages to ask people not to watch the film by illegitimate means.
Source: Mainichi Shimbun
"Kimi no Na wa." image ©2016 "Kimi no Na wa." Production Committee
---
Related:
Kyoto Police Arrested Chinese Man for Illegally Uploading "Ange Vierge" Anime Episode
Two Chinese Men Arrested for Selling Fake "Lyrical Nanoha" Hug Pillow
35-Year-Old Man Arrested for Uploading "My Hero Academia" Anime via Perfect Dark
Tokyo Police Exposed Game Centers in Akihabara for Offering Counterfeit "Love Live!" Prizes
Japanese Police Arrested 51-year-old Man for Uploading Anime Music illegally for 10 Years
54-Year-Old Unemployed Man Arrested for Illegally Uploading "your name."
Kyoto Police Arrested Two Chinese Men for Illegally Uploading "Arslan," "Prisma Illya" Anime
70-year-old Man Stealing Shonen Jump before Release Found Guilty, 10 Months in Prison
Japanese Police Arrested 44 People for Illegal Uploading in Three Days
30-year-old Unemployed Man Arrested for Uploading "Kingdom" Manga
38-year-old Man Arrested for Posting "GATE" Episodes onto Video Sharing Site
Another 2 Chinese Arrested for Uploading "The Seven Deadly Sins" Manga
4 Men Arrested for Posting "One Piece" Latest Chapter Before Release
Police Arrested Man Who Posted Robot Anime Videos, Theme Songs
50-Year-Old Unemployed Man Arrested for Uploading Manga via PerfectDark
High School Teacher Arrested for Uploading "Kuroko's Basketball" Manga
Unemployed Man Arrested for Uploading "Liar Game" Manga