La película se estrenará en verano.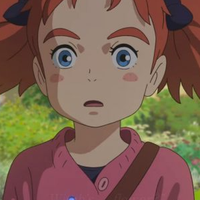 Studio Ponoc, el estudio de animación fundado por el productor Yoshiaki Nishimura de Studio Ghibli, ha mostrado un nuevo tráiler de la que será su primera película animada, Maru and the Witch's Flower, o Mary to Majo no Hana. La película se estrenará en verano y está basada en el libro The Little Broomstick de Mary Stewart.
Hiromasa Yonebayashi, director de El mundo de Arriety y de El recuerdo de Marnie, es el director de esta película. Yonebayashi también escribe el guión junto a Riko Sakaguchi, quien guionizó el Cuento de la princesa Kaguya de Isao Takahata. Takatsugu Muramatsu (El recuerdo de Marnie) se encarga de componer la música. Nishimura aparece también acreditado como productor, y la web oficial de la película revela que muchos antiguos componentes de Studio Ghibli se han unido a Ponoc para la producción.
Mary entra en el bosque siguiendo a un gato negro, y allí encuentra una extraña flor. Poco después encuentra una escoba y no tarda en subirse a ella, lo que le lleva más allá del cielo a la Escuela Endor, una escuela para brujas. Sin embargo allí descubrirá que se está llevando a cabo un terrible experimento en el que convierten a los animales en monstruos mutantes y los encierran en jaulas. Cuando regresa a casa asustada, descubre que Tib, el gato negro que la llevó al bosque, ha sido capturado, así que decide volver a la escuela mágica para rescatar a los animales.
Nishimura fundaba Studio Ponoc en abril de 2015 tras haber abandonado Ghibli el año anterior.
Fuente: @pKjd