Stickers with the VA's handwriting autographs will be randomly included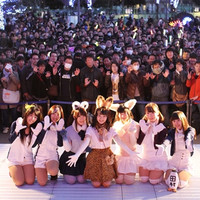 "Japari Café," a newly-recorded drama/character song album from the Kemono Friends anime franchise is confirmed to be released on May 17. The anime's original soundtrack album composed by Akiyuki Tateyama (AKB48, Sex Zone, Wake Up, Girls!) will be also available on the same day. Purchasers who pre-order the two albums together at selected Japanese retailers (Animate, Gamers, HMV, Amazon Japan, etc.) will receive a yet-revealed special bonus item.
The "Japari Café" album contains:
-Two drama tracks featuring:
Doubutsu Biscuit (Serval, Fennec, Raccoon) and Kaban (CV: Aya Uchida)
PPP (Royal Penguin, Emperor Penguin, Gentoo Penguin, Rockhopper Penguin, Humboldt Penguin)
-OP song "Yokoso Japari Park he" by Doubutsu Biscuits×PPP
-Insert song "Ozora Dreamer" by PPP
-Three new songs including "Kemono Pa-rade (tentative title)" written by the franchise's concept designer
Mine Yoshizaki.
In addition, the first press limited edition set of the album includes an original sticker, and only nine
set of them come with the one with handwriting autographs by each member of the anime voice cast.
Meanwhile, the soundtrack album comes with a mini book of the illustrations for the franchise posted
on Twitter by Yoshizaki.
---
Except Kyouka Tamura who was absent due to her sickness, seven members of the anime's two voice
actress units, Doubutsu Biscuit and PPP (PePaPu), joined the release event for the OP song CD single
held at Odaiba Diver City Tokyo Plaza on February 25.
本日の「ようこそジャパリパークへ」リリースイベント、たくさんの人に来ていただき、大盛況で終えることができました!!ありがとうございました☆#けものフレンズ pic.twitter.com/m6ocsvj3dS

— けものフレンズ@公式アカウント (@kemo_anime) February 25, 2017
OP song regular edition CD jacket
Doubutsu Biscuit members:
Serval: Yuka Ozaki (Ado Sukinanoka in We Are the Luck and Logic Club!)
Fennec: Kana Motomiya
Araiguma (Common Racoon): Saki Ono (Hakone-chan in Onsen Yosei Hakone-chan)
PPP members:
Royal Penguin: Mikoi Sasaki (Hercule Barton in Milky Holmes)
Koutei (Emperor) Penguin: Ruka Nemoto (Yu Kashima in VENUS PROJECT -CLIMAX-)
Gentoo Penguin: Kyouka Tamura
Iwatobi (Rockhopper) Penguin: Aina Aiba
Humboldt Penguin: Ikuko Chikuta
First press limited edition
PV for the OP/insert song CD single
Source: "Kemono Friends" TV anime offical website, Twitter
(C) Kemono Friends Project A