Get a special item to Mega Evolve your Mewtwo in-game!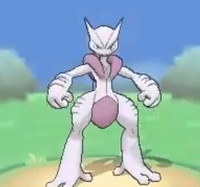 Pokémon Sun and Moon are about to get a whole lot more Mega Stones in-game with a special in-game distribution event coming down the pipeline. Players will be getting Metwonite X and Mewtwonite Y in the coming days via special code.
You can get the Mewtwonites to evolve your Mewtwo into Mega Mewtwo by using the code M2DESCENT in your game via the Mystery Gift menu. Make sure you don't miss out on your free stones to play the game with a bigger, badder Mewtwo!
[via Siliconera]
-------
Fueled by horror, rainbow-sugar-pixel-rushes, and video games, Brittany is a freelancer who thrives on surrealism and ultraviolence. Follow her on Twitter @MolotovCupcake and check out her portfolio for more.