Sure, she's lead Matome Mayonaka, but she's also this week's big guest!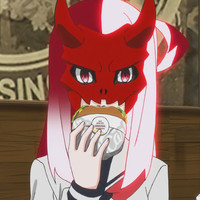 In addition to offering plenty of cute observations about Akihabara culture, this season's Akiba's Trip: The Animation has offered a parade of voicing acting notables as its enemies of the week. This week's "Electric Mayo's Falling Apart!" brought in one of the hottest voice actresses on the scene. Rie Takahashi is Konosuba's Megumin. She's Re:Zero's Emilia. And, this week, she's Urame Mayonaka on Akiba's Trip... sure, she's already lead Matome Mayonaka, but she's also this week's big guest!
今晩の #アキバ二 TRIP11「真夏のアキバフェス開幕!」では新倉マスト(CV: 興津和幸さん)が爆弾ニュースを秋葉原に投下!?謎の少女万世架うらめ(CV:高橋李依さん)とはいったい!?どうなるアキバフェス!今晩AT-X22:30~/TOKYO MX23:30~見逃すな♪ pic.twitter.com/UpcLK1Pq8y

— 「アキバズトリップ」アニメ公式 (@akibastripanime) March 15, 2017
謎の少女、万世架うらめ……。いったい何マヨ……!?!今夜のアキバニも、必見です!!! https://t.co/g6zaj9ZWxm

— 高橋李依 (@taka8rie) March 15, 2017
Urame Mayonaka - Rie Takahashi
Masuto Niikura - Kazuyuki Okitsu (Jojo's Jonathan Joestar, Berserk's Serpico)
Previously...
1 - Kaori Ishihara as Boss
2. Tessho Ganda (Gundam's Slegger Law, Dragon Ball's Bojack, Violence Jack) as Hardman
3. Chiaki Takahashi ([email protected]'s Azusa Miura) as Chibusa Benikage
Bin Shimada (Zeta Gundam's Paptimus Scirocco) as Naisu
Ayana Taketatsu (K-on!'s Azusa Nakano, Sword Art Online's Leafa) as Denko Busujima
5. Aoi Yuuki (Madoka Magica) as Matsuko
6. Aya Hisakawa (Oh My Goddess' Skuld, OG Sailor Mercury) as Lawrie Barbara
Yui Ogura as Pyuko
7. Wataru Takagi (One Piece's Bellamy) as Tsutomu Kuroi
8. Atsushi Tamua as Shi Shō
Shoko (Shokotan) Nakagawa as Diva Risa McWhite
9. Daisuke Ono (Jojo's Jotaro Kujo, Black Butler's Sebastian Michaelis)
Suzuko Mimori (Milky Holmes' Sherlock Shellingford) as Miu Miu
10 Tetsu Inada as Black Hole Kurota

------
Scott Green is editor and reporter for anime and manga at geek entertainment site Ain't It Cool News. Follow him on Twitter at @aicnanime.