See a new glimpse at the "Shin Megami Tensei" project for Switch that's in development.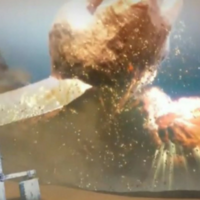 The new Shin Megami Sensei project for Nintendo Switch received a teaser trailer from Atlus. The Trailer premiered during the Atlus New Title Announcement Special Spring 2017 live stream today.
The teaser, unfortunately, hasn't been uploaded yet, but there has been a single image released. The teaser trailer is the same as the trailer debuted during the Nintendo Switch reveal event, but with an additional five seconds, that shows a destroyed city. We're not sure what the new Shin Megami Sensei HD project will entail, or even its name. No release date has been announced by Atlus either.
[via Gematsu]
-------
Fueled by horror, rainbow-sugar-pixel-rushes, and video games, Brittany is a freelancer who thrives on surrealism and ultraviolence. Follow her on Twitter @MolotovCupcake and check out her portfolio for more.