Hiroyuki Seshita (Ajin: Demi-Human)-directed film will be released on May 20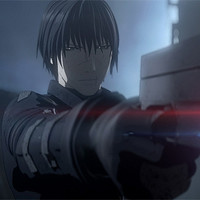 The official website for the upcoming anime film adaptation of Japanese manga artist Tsutomu Nihei's first serialized manga work BLAME! today released a 100-second second trailer introducing its theme song "Calling you" performed by two-member unit angela.
2nd trailer
BLAME! is based on Nihei' short story BLAME (without the exclamation mark) that won the Special Jury
Award in the Four Seasons Award manga contest held by Kodansha's Monthly Evening in summer of 1995.
The long story version was serialized in the magazine from 1997 to 2003, then compiled in 10 tankobon
volumes. The srory is set in the distant future where what's left of the human race resides within the
Megastructure, a vast and dangerous labyrinth that has grown wild and out of control. Thrown into this
world is the mysterious Killy, a strange individual who is on a quest to bring civilization back from the
brink of oblivion.
Polygon Pictures, previously worked on the anime adaptations of Nihei's Knights of Sidonia series, again
works on anime production. Hiroyuki Seshita, who directed the Knights of Sidonia anime and the recent
Ajin: Demi-Human, serves as the director. The original manga creator Nihei supervises the anime project
that tells an all-new story, handling script and character design. The film will be released in 27 theaters
in Japan on May 20 for a limited time of two weeks, and will be simultaneously streamed on Netflix globally.
The second edition of the advance tickets with a 1/35 scale figure of Safeguard (Extermination TYPE-01)
will be available at the theaters from tomorrow, April 1.
【前売特典第2弾 発表!】
全国共通特別前売券の特典第2弾は、1/35スケールフィギュア・セーフガード(駆除系TYPE-01)!
4月1日より上映劇場にて発売開始!
販売劇場: https://t.co/fOO1Bq9Vj5#BLAME_anime pic.twitter.com/s9fUZyFpME

— 「BLAME!」5/20 劇場全国公開 (@BLAME_anime) March 24, 2017
銀袋の正体は前売特典の1/35スケールフィギュア・セーフガード(駆除系TYPE-01)でした!コップのくじょ○さん的な使い方も・・・!?今にも飛びかかってきそう・・・4月1日より上映劇場にて発売!販売劇場: https://t.co/TSU2VnkPjB #BLAME_anime pic.twitter.com/cWrQHrPxHV

— 「BLAME!」5/20 劇場全国公開 (@BLAME_anime) March 24, 2017
Poster visual
1st trailer for Netflix
Tankobon 1st volume: Original (1998) and New Edition (2015)
Source: "BLAME!" official website
© Tsutomu Nihei, Kodansha/BLAME! Production Committee