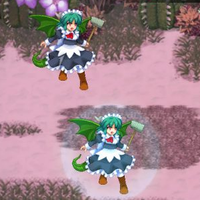 Mediascape ha anunciado tres nuevos juegos indie que llegarán a lo largo de este año 2017 a consolas PlayStation en Japón.
Touhou Genso Maroku W: The Devil of Decline (PSVita, junio de 2017)
Desarrollado por Strawberry Rose, el juego usa un "Sistema Shikigami" en el que el grupo lucha equipados con shinigamis.
Al equipar uno de los más de 100 shikigamis disponibles a los personajes, estos podrán usar varias habilidades. Algunos de los enemigos que sean derrotados se convertirán en shikigamis que reclutar y llevarse con uno mismo.
Habrá mazmorras con varias zonas que explorar, alquimia, objetos y spell cards que recolectar. También se incluirán una enciclopedia ilustrada y otros elementos adicionales.
Diadra Empty: To Wish for Dreaming Tomorrow (PlayStation 4, 2017)
Desarrollado por Frozen Orb hará que los jugadores puedan moverse libremente por un enorme mapa compuesto por varias pantallas en las cuatro direcciones en las que habrá que enfrentar a enemigos que se van acercando poco a poco. También habrá jefes de gran tamaño y elementos estratégicos como varios tipos de equipo y monedas para comprar mejoras.
Con el port a PlayStation 4 el juego ganará soporte para todo tipo de pantallas, controles mejorados, ajustes de equilibrio y nuevas armas.
Gundemoniums (PlayStation 4 y PSVita, 2017)
Gundemoniums está desarrollado por Platine Dispositif, siendo un shooter de scroll horizontal que mejorará a su versión original de PC y PS3 añadiendo personajes, sistemas y más novedades.
Fuente: Gematsu