More Pokémon is always a good thing!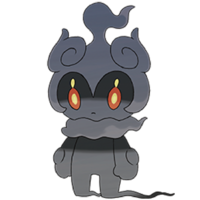 There's a brand new Pokémon that's coming to Pokémon Sun and Moon, and its name is Marshadow! Announced last night by The Pokémon Company, the monster has been spotted before, but now it will officially be touching down in the games soon.
According to the press release, you won't be able to get it by just playing normally. You'll have to keep an eye out for announcements about how you'll need to get Marshadow in the future, and we'll keep you posted. Until then, check out the video below!
[via The Pokémon Company]
-------
Fueled by horror, rainbow-sugar-pixel-rushes, and video games, Brittany is a freelancer who thrives on surrealism and ultraviolence. Follow her on Twitter @MolotovCupcake and check out her portfolio for more.