55 shows are scheduled to be performed from July to September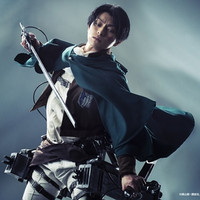 On the same day with the release of its general advance tickets, the official website for the upcoming stage play adaptation of Hajime Isayama's mega hit manga series Shingeki no Kyojin/Attack on Titan, "LIVE IMPACT Attack on Titan," released new visuals of its for main cast: Hiroki Miura as Eren Yeager, Minami Tsukui as Mikasa Ackerman, Shogo Sakamoto as Armin Arlert, and Yuya Endo as Levi, whose costume visual was revealed for the first time. Endo is 171 cm tall, 11 cm higher than the character.
The first stage play adaptation in the Attack on Titan franchise is scheduled to be performed at Maihama Amphi Theater in Chiba Prefecture 55 times from July 28 to September 3 (July 28-30 performances are previews). The total number of the cast members is expected to be over 150. According to the story introduction on the site, it will feature the Battle of Trost District arc in the original story.
New main visual
Eren Yeager: Hiroki Miura (Keigo Atobe in The Prince of Tennis musicals, Monkey D. Luffy in One Piece Live Attraction)
ライブ・インパクト「進撃の巨人」
キャストのみなさまに、意気込みを語っていただきました!
はじめはもちろんこの方!

エレン・イェーガー役
三浦宏規さん#舞台進撃 #ライブインパクト pic.twitter.com/E5c8kF9wPy

— ライブ・インパクト「進撃の巨人」【公式】 (@shingeki_stage) April 9, 2017
Mikasa Ackerman: Minami Tsukui (Yoko Minato/Kamen Rider Marika in Kamen Rider Gaim)
<キャストコメント>

ミカサ・アッカーマン役の
佃井皆美さんです!#舞台進撃 #ライブインパクト pic.twitter.com/UMGowKUS9i

— ライブ・インパクト「進撃の巨人」【公式】 (@shingeki_stage) April 9, 2017
Armin Arlert: Shogo Sakamoto (Ryoma Echizen in The Prince of Tennis musicals/2007-2009)
<キャストコメント>

アルミン・アルレルト役の
阪本奨悟さんです!#舞台進撃 #ライブインパクト pic.twitter.com/YBPG5a9yTH

— ライブ・インパクト「進撃の巨人」【公式】 (@shingeki_stage) April 9, 2017
Levi: Yuya Endo (Ryoma Echizen in in The Prince of Tennis musicals/2004-2005)
<キャストコメント>

そして、リヴァイ役の
遠藤雄弥さんです!#舞台進撃 #ライブインパクト pic.twitter.com/qtKHY693KI

— ライブ・インパクト「進撃の巨人」【公式】 (@shingeki_stage) April 9, 2017
---
Teaser
Previous main visual
Source: Kyodo Medias press release
(C) Hajime Isayama,Kodansha/LIVE IMPACT Shingeki no Kyojin Production Committee