Some titles are not included due to right issue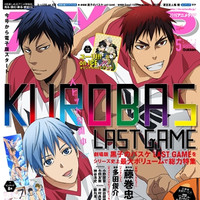 From the current May 2017 issue released on April 10, Gakken Plus's anime magazine Animedia also has its digital edition. The second oldest ongoing Japanese anime magzazine started its publication in June 1981 and becomes the first one to have its digital edition.
The digital edition is available on most of Japanese digital bookstores, including Amazon Japan, Rakuten Books, BookLive!, and honto. Other two major Japanese anime magazine, Tokuma Shoten's Animage and Kadokawa's Newtype have not yet announced their digital publication.
One of the fun things of the anime magazines are various furoku (extra items). While the 900-yen print edition of the issue comes with a clear file of Yuri!!! on Ice, of course the 750-yen digital edition does not. In addition, probably due to right issue, articles about some titles, such as Free!-Timeless Medley-, Gintama, Aikatsu Stars!, and Armed Girl's Machiavellism, and a character ranking that needs to use many
character images are not included in the digital edition.
Animedia May 2017 issue cover
Source: Bookbeyond press release