Now you can add four additional Pokemon to your collection of Megas!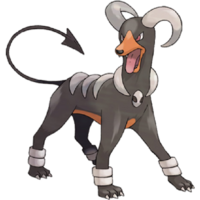 Looking to add some additional Mega Stones to your arsenal in Pokemon Sun and Moon? You can now get four more with a code posted on the official Pokemon site.
To save you time, the code is "AZUL." Previously these Mega Stones were unavailable in the games, but now you can have your Pidgeot, Heracross, Steelix and Houndoom evolve in-game. You'll have to go to the Mystery Gift screen and use the code "AZUL" to receive the stones, which you'll be able to use to transform your favorite members of your Pokemon menagerie.
Make sure to visit the Pokemon Center in any city to grab your Mega Stones, then save your game to save your progress as well.
[via GameSpot]
-------
Fueled by horror, rainbow-sugar-pixel-rushes, and video games, Brittany is a freelancer who thrives on surrealism and ultraviolence. Follow her on Twitter @MolotovCupcake and check out her portfolio for more.