Masataka Kubota (Death Note TV drama)-starring film hits Japanese theaters July 29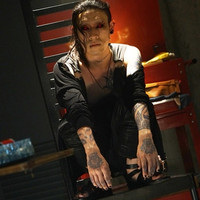 The official website for the upcoming live-action film adaptation of Sui Ishida's dark fantasy manga series Tokyo Ghoul today confirmed that 27-year-old kabuki actor Minosuke Bando II is cast as Uta, the ghoul owns Hysy ArtMask Studio and has tattoos around his body, and posted two photos of the character in the film. While working as a kabuki actor, he hs joined two jidaigeki films, Sakuradamongai no Hen in 2010 and Kiyosu Kaigi in 2013. Tokyo Ghoul is his first film set in the modern day Japan.
"Honestly, I hesitated very much when I received the offer in the beginning. Because only things Uta-san and I have in common are that both don't have eyebrows and have close-cropped hair..."
【坂東さんコメント①】
正直、最初にお話を頂いた時はすごく迷いました。ウタさんと自分の共通点なんて、眉毛がない事とサイドが刈り上げな事くらいなので…。(つづく)#東京喰種 pic.twitter.com/tYuxKI9IgS

— 映画『東京喰種 トーキョーグール』 (@tkg_movie) May 25, 2017
"However, thanks to the staff members who collected the perfect Uta-san set for me, from his tattoos,
pierced earrings, clothes, to permanent red eyes, I was able to decide to devote myself to play."
【坂東さんコメント②】
(つづき)ですが、タトゥーにピアス、服装から常時赫眼に至るまで、スタッフの皆様が完璧なウタさんセットを用意して下さったので、腹を括って演じさせて頂きました。(つづく)#東京喰種 pic.twitter.com/nnaO2ZvvZE

— 映画『東京喰種 トーキョーグール』 (@tkg_movie) May 25, 2017
"I am a little worried, because I am also a big fan of the original manga. But I would be happy if I could
become the Uta-san that other same fans of the manga will be able to accept."
【坂東さんコメント③】
(つづき)僕自身が原作の大ファンなので不安もありますが、同じ原作ファンの方々にも受け入れて頂けるウタさんになれていたら幸いです。

――坂東巳之助#東京喰種 pic.twitter.com/ae0bhTx1Tc

— 映画『東京喰種 トーキョーグール』 (@tkg_movie) May 25, 2017
The Kentaro Ogiwara (Snowman, Anniversary)-directed film is confirmed to be released in theaters
across Japan as originally planned on July 29, 2017.
---
Teaser visual
English teaser
Source: "Tokyo Ghoul" live-action film official website, Twitter
© Sui Ishida/Shueisha
© "Tokyo Ghoul" Production Committee