The voice of as Miki Aono/Cure Berry (Fresh PreCure!), Sayaka Miki (Puella Magi Madoka Magica)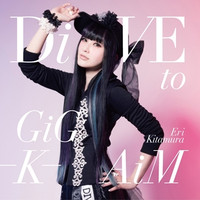 TMS Music, a music subsidiary of anime production company TMS Entertainment, announced today that 29-year-old anime voice actress/singer Eri Kitamura's new single "DiVE to GiG - K - AiM" is set to be released in Japan on July 26.
As reported, she changed her record company from Starchild (King Records) to TMS Music in November 2016 and released a five-song mini album "Revolution 【re:i】" from the company on March 22. While she wrote the lyrics of all three songs in the upcoming single, the lead track was composed by creator group Cue-Q who is known for their collaboration work for Wagakki Band. And other two songs in the single, "Melt ~Yami Kawaii~" and ballad song "+×+×+ Keikyoku +×+×+" were composed by ko-hey/Kohei Ogawa (NAMBA69, ex-ARTEMA) who previously wrote "FORTiTUDE" in "Revolution 【re:i】" for her.
Kitamura is best known as Saya Otonashi in Blood+ (2005), Miki Aono/Cure Berry in Fresh PreCure!
(2009-2010), and Sayaka Miki in Puella Magi Madoka Magica (2011-2013). She is set to voice Shizuku
Hazuki in NEW GAME!! and Ranko Honjo in Hajimete no Gal in the upcoming summer 2017 season.
"DiVE to GiG - K - AiM" CM
First press limited edition CD jacket
Regular edition
---
"Revolution【re:i】"lead track MV full version
"Revolution【re:i】" all-song preview
"Revolution【re:i】" first press limited edition CD jacket
Regular edition
Source: TMS Music press release