Grab your own Crunchyroll Hime water bottle and more!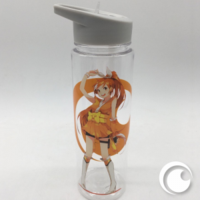 Crunchyroll Expo has a variety of ticket options to choose from, and while any ticket will get you into most of the event, our VIP and VIP PLUS tickets are for fans who want it first and want it best. Our VIP tickets include extra access – which you can read about here – and exclusive merch we've only hinted at before. Now's the time, though, to start sharing some of the goodies that come along with being a VIP at Crunchyroll Expo!
We've got over ten special items that are part of our VIP packages, with your first glimpse at some of 'em right now! Keep your eyes peeled for more VIP merch reveals over the coming weeks!
– Crunchyroll Hime Water Bottle
– Stay hydrated with Crunchyroll Hime everywhere you go
– Part of VIP and VIP PLUS packages
– Naruto Socks
– Essential footwear for all would be ninjas
– Part of VIP and VIP PLUS packages
– Berserk Play Mat
– The next time you play, let your opponent know you got Guts
– Part of VIP PLUS packages
Want to take home any of Crunchyroll Expo's VIP exclusives? Grab your VIP or VIP PLUS ticket now!