16,200-yen items will go on sale on August 30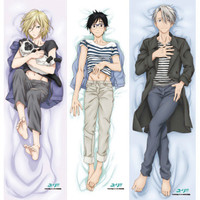 Gakken Plus, one of Gakken Holding's group companies and the publisher of the long-running Japanese anime magazine Animedia, announced today that it will offer official hug pillow covers inspired by the three main characters from the mega popular TV anime series Yuri!!! On ICE: Yuri Katsuki, Victor Nikiforov, and Yuri Plisetsky. The illustrations of them are newly drawn by an official illustrator of the anime franchise.
In addition to the main cover, the items also have a separate cover that can be turn over to show the characters' more naked style. The "Yuri!!! On ICE hug pillow cover deluxe" will go on sale at the price of 16,200 yen (about 146 US dollars) at Animedia Shop and other EC sites on August 30, 2017.
"Yuri!!! On ICE hug pillow cover deluxe"
- three types (Yuri Katsuki, Victor Nikiforov, Yuri Plisetsky)
Price: 15,000 yen (and tax)
Release: August 30, 2017
Size: about H1600×W500mm (both the main and separate covers)
Material: 2WAY tricot
【予約受付中】『ユーリ!!! on ICE』の抱き枕カバーが8月30日に発売決定。公式描きおろしによる全3種(勇利、ヴィクトル、ユーリ)。カバーを脱がせられる仕様で、ちょっぴりセクシーな勇利たちを楽しめます。https://t.co/LA1ejMPRSN #yurionice pic.twitter.com/iJ8k3aouja

— 超!アニメディア (@cho_animedia) June 22, 2017
Source: Gakken Plus press release
(C) Hasestu Chomimkai/Yuri!!! On ICE Prodution Committee