Deployment of Cerevo's walking, talking 1/8 scale models of "Ghost in the Shell" smart tanks delayed until August 2017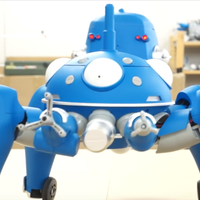 Originally announced back in 2016 as part of the "Ghost in the Shell Realize Project", Cerevo has pushed back the release date of their walking, talking 1/8 scale Tachikoma smart tank toys from June 2017 until August 2017 in order to improve the mobility and durability of the tiny robots.
After an official announcement in March of 2017, the Tachikoma were intended to be released in June of 2017 with only the ability to run around on four wheels as their primary means of locomotion. Cerevo has since postponed the toys' launch to allow further development that will give the Tachikoma the ability to walk as well. The video below features a Tachikoma demonstrating its walking gait, which is currently still under-development.
The 1/8 scale Tachikoma toys can walk, talk, and interact with their owners via voice recognition technology and a smart phone app. They also have the ability to synchronize with the cloud and learn, and they speak using voice synthesis technology based on samplings from the original Tachikoma voice actress, Sakiko Tamagawa.
Owning your own smart tank from Ghost in the Shell: Stand Alone Complex will cost a pretty penny, though, because the 1/8 scale Tachikoma toys retail for 157,400 yen ($1414.44 US) including tax.
Sources:
Official Cerevo 1/8 Scale Tachikoma home page (English version)
Paul Chapman is the host of The Greatest Movie EVER! Podcast and GME! Anime Fun Time.