70-year-old author also supervises a manga school for free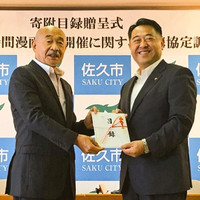 99,000-populated Saku-city in Nagano Prefecture announced on July 20 that 70-year-old manga script writer Buroson, best known for his story work for the Hokuto no Ken/Fist of The North Star series, donated 400 million yen (about 3.57 million US dollars) to the city to establish a new non-refundable scholarship fund for the young people who need financial support to go to university. For 10 years from the next fiscal year, the "SAKU Cosmos Scholarship Fund" will provide one million yen for 10 students in the city for four years.
Buronson was born in the city on June 16, 1947. He said at the pres conferences, "My family was very poor, so after graduating from junior high, I joined Japan Self-Defense Force. Because I didn't like study, I had no will to go to advance school. But if I went to high school, I would have a different life."
The city also plans to open a school for manga creaters, named "Buronson 100 Hours Manga Cram
School." Buronson pays all of its operating cost, and its tuition fee is free. Five-hour lectures by Buronson
and other popular manga creators/editors will be offered for 20 times from April 2018 to March 2019.
The planned number of participants is 30.
Buronson and Seiji Yanagida, the mayor of Saku-city
【武論尊からの贈り物①】
佐久市出身の武論尊さんからの寄付4億円。これを財源に給付型奨学金制度を創設します。
①1人あたり年間100万円を4年間給付
②毎年10人
③10年間実施
野沢中学校の同級生であった樫山徹佐久商工会議所会頭らの語らいの中で夢が実現しました。#北斗の拳 pic.twitter.com/3EhM1lo4c3

— 佐久市長 柳田清二 (@Seiji_Ya) 2017年7月20日
【武論尊からの贈り物②】
北斗の拳の原作者の武論尊さんは、佐久市岸野出身
『武論尊100時間漫画塾』を佐久市で開催。応募資格は、プロの漫画家or漫画原作者を目指していること。受講料等、一切の費用は武論尊さんが負担して下さいます。
心からの感謝を申し上げます。#武論尊#北斗の拳 pic.twitter.com/dhOZINcVFB

— 佐久市長 柳田清二 (@Seiji_Ya) 2017年7月20日
Video message from Buronson for "Buronson 100 Hours Manga Cram School"
Source: Saku-city, Seiji Yanagida official Twitter, Asahi Shimbun