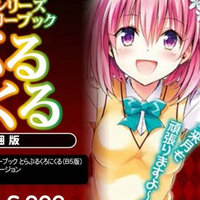 El libro Trouble Chronicle del manga To Love-Ru Darkness de Kentaro Yabuki y Saki Hasemi ha retrasado su lanzamiento desde el 4 de agosto hasta el 2 de noviembre. El libro conmemorará el 10.º aniversario de la franquicia e incluirá entre sus páginas dos capítulos spinoff del manga To Love-Ru Darkness que Shueisha publicaba en los números de mayo y junio de la revista Jump SQ.
Estos dos capítulos extra se adaptarán a su vez en una OVA animada que se incluirá con el libro.
Otro contenido del libro conmemorativo serán ilustraciones inéditas, materiales de investigación de los autores para crear el manga, ilustraciones tributo y más.
To Love-Ru Darkness finalizaba en el número de abril de la Jump SQ. el pasado 4 de marzo, donde se publicaba desde 2010 como secuela de la primera To Love-Ru.
Fuente: Moetron