She is now voicing Shizuku Hazuki (NEW GAME!!), Ranko Honjo (My First Girlfriend Is a Gal)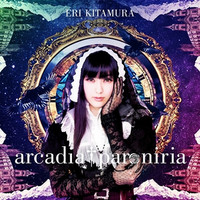 TMS Music, a music subsidiary of anime production company TMS Entertainment, announced today that 29-year-old anime voice actress/singer Eri Kitamura's new single "arcadia † paroniria" will be released in two editions in Japan on September 26. This is her 2nd single from the label following "DiVE to GiG - K - AiM" released last Wednesday, July 26.
The gothic metal song "arcadia † paroniria" is composed by vocaloid song writer Machigerita, best known for his Hatsune Miku & Rin/Len Kagamine song "Kurai Mori no Circus" released in 2008. As with the previous single songs, Kitamura wrote the lyric of the title track.
Kitamura is best known as Saya Otonashi in Blood+ (2005), Miki Aono/Cure Berry in Fresh PreCure! (2009-2010), and Sayaka Miki in Puella Magi Madoka Magica (2011-2013). She is now voicing Shizuku Hazuki in NEW GAME!! and Ranko Honjo in My First Girlfriend is a Gal in this summer
2017 season.
"arcadia † paroniria" CM
First press limited edition CD jacket
Regular edition
---
"DiVE to GiG - K - AiM" CM
"DiVE to GiG - K - AiM" dance choreography video
All-song preview
First press limited edition CD jacket
Source: TMS Music press release