Available now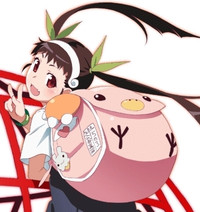 Here's a thing: In partnership with Aniplex of America, Crunchyroll has nabbed the exclusive stream of Season Two of OWARIMONOGATARI, and the first few episodes are live NOW! Read on for full details!
Episodes 1+ 2 available now (Simulcast on Saturdays 6:00am PDT)
Regions: North America, Central America, South America, Australia, New Zealand, United Kingdom and Ireland
Synopsis
During October of his third year in high school, Koyomi Araragi is introduced to a transfer student named Ougi Oshino by his underclassman Kanbaru Suruga. Ougi tells Koyomi that she has something she wishes to consult with him. When she draws the map of Naoestu High School, she finds something peculiar on the map of Naoetsu High School she draws. This discovery reveals a tale that wasn't meant to be told, and this makes Koyomi's high school life totally different. This is the story that brings to light "what" makes Koyomi Araragi. This is the story that reveals the "beginning" of everything.
---
Patrick Macias is editor in chief of Crunchyroll News & Otaku USA magazine. He is currently serializing his latest writing project, PARANOIA GIRLS, on Wattpad.