The third annual event is expected to attract 100,000 visitors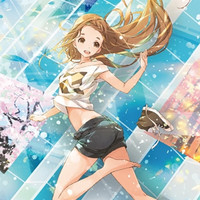 The official Facebook page and Twitter for the upcoming JAPAN EXPO IN THAILAND 2017 today confirmed that 26-year-old voice actress Saori Hayami, best known as Ayase Aragaki in Oreimo and Miyuki Shiba in The Irregular at Magic High School, is cast as the protagonist Thai girl in the original short anime that is set in Tokyo and Bangkok.
The event was launched in 2015 to promote Japanese culture, sightseeing, foods, products, and technology to the Thai people. Following the first one with 75,000 in 2015 and the second with 92,000 in 2016, the third annual event to be held at Royal Paragon Hall in Bangkok on September 1-3 is expected to attract over 100,000 visitors.
While its story details have not yet been revealed, the theme of "JAPAN EXPO IN THAILAND ANIME PROJECT 2017" is "a bridge between Japan and Thailand, starting from one anime story."
Prior to the completion of the animation, the recording of the soundtrack music produced by Jun
Hoshina (La Corda d'Oro, Touken Ranbu -Hanamaru-) was already finished. Asahi Production (Million
Doll, Pan de Peace!) works on anime production.
Key visual with a tagline "Who suppots me is myself."
"JAPAN EXPO IN THAILAND ANIME PROJECT 2017" Staff:
General Producer/Music: Jun Hoshina (La Corda d'Oro, Touken Ranbu -Hanamaru-)
Creative Director: Hiroaki Matsu (Yasai no Yousei: N.Y. Salad, TOKYO GIGANTIC GIRLS)
Background Arts: Hiromichi Tanigawa (Bleach films, Magic of Stella)
Anime Production: Asahi Production (Million Doll, Pan de Peace!)
Production/Authoring: Jeducation
จากอนิเมชั่น สู่การเชื่อมสัมพันธ์ไทย-ญี่ปุ่น
เตรียมพบอนิเมชั่นสั้นๆ จากงาน JAPAN EXPO IN THAILAND 2017 โดยทีมผู้สร้างชาวญี่ปุ่น เร็วๆนี้ค่ะ! pic.twitter.com/uIMF929hGU

— JET anime 2017 (@japanexpo_anime) 2017年6月27日
สตอรี่บอร์ดฝีมือผู้กำกับนาคามุระเสร็จเรียบร้อยแล้ว!
ทีมงานนำไปใช้เป็นภาพต้นแบบ สำหรับทำภาพเคลื่อนไหวในขั้นตอนต่อไป#JapanExpoInThailand pic.twitter.com/D3JYQVIqHJ

— JET anime 2017 (@japanexpo_anime) 2017年8月16日
ออกเดิน!
กำลังค่อยๆ เติมชีวิตให้แก่เด็กผู้หญิงตัวเอกของเราค่ะ#JETanime #JapanExpoinThailand2017 #JapanExpoinThailand #JapanExpo #anime pic.twitter.com/e6BhoOBQT9

— JET anime 2017 (@japanexpo_anime) 2017年8月18日
บันทึกเสียงดนตรีเรียบร้อยก่อนอนิเมชั่นเสร็จสมบูรณ์! แต่งโดย Jun Hoshina บรรเลงโดย Yuma Ito String-Quartet! #JETanime #JapanExpoInThailand pic.twitter.com/UgmiN5Bzof

— JET anime 2017 (@japanexpo_anime) 2017年8月20日
ประกาศพิเศษ กำหนดแล้ว! เสียงตัวละครเอกในอนิเมชั่นเรื่องสั้นที่มีฉากเป็นกรุงเทพและโตเกียวรับบทโดยคุณ #SaoriHayami#早見沙織 #JETanime #japanexpo pic.twitter.com/oii94O4RWt

— JET anime 2017 (@japanexpo_anime) 2017年8月22日
Source: JAPAN EXPO IN THAILAND 2017 official Twitter