The mega-hit franchise's first art exhibition will be held in Ikebukuro and Hiroshima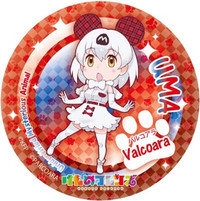 As reported, "Kemono Friends: Yoshizaki Mine Concept Design Exhibition" dedicated to the 45-year-old artist's design works for the ultra hit Kemono Friends franchise will open at Parco Museum on the seventh floor of Ikebukuro Parco's main building in Tokyo this Thursday.
Mine's official TWitter has posted a 30-second CM narrated by three popular anime l girl characters, Serval (Yuka Ozaki), Fennec (Kana Motomiya), and Common Raccoon (Saki Ono). The clip also introduces a new Friends character Valcoara, based on the department store's official mascot character Parcoala. All visitors will get a tin badge featuring the character illustration for free.
The time-limited exhibition introduces the world settings of Japari Park, the main location of the story, and also displays over 200 standees of the animal girl characters from the franchise. It will be held at the Ikebukuro venue till September 11, then will move to Hiroshima Parco from September 22
to October 10.
準備万端!みんな来てね〜! pic.twitter.com/heyHSWjZee

— 吉崎 観音 (@yosRRX) 2017年8月21日
Valcoala tin badge
「けものフレンズ吉崎観音コンセプトデザイン展」いよいよ今週24日(木)からです!
CMが池袋パルコの大型ビジョンでも24日から流れますので、ぜひご覧ください。追加情報も近々に発表しますよ。展覧会の詳細は以下をご覧ください。https://t.co/UL1SN0QY4e pic.twitter.com/DBH6Y8YwIr

— けものフレンズ@公式アカウント (@kemo_anime) 2017年8月21日
---
Limited items for the event
Acryl Keyholders (550 yen)
Episode Mugs (1,500 yen)
Glass Mug PPP (1,800 yen)
Logo-only T-shirt (3,000 yen)
Event Visual Poster (500 yen)
Kemono Friends Cap (3,000 yen)
Clear Files (350 yen)
Tin Bagdes (300 yen)/Die-Cut Cushions (3,000 yen)
---
"Cafe Address" on the store's 6th floor will open the "Serval Kitchen" section during the event period,
offering original dish and drinks inspired by the Friends characters.
"Serval's Miyou Mimane (learning by imitation) Curry" (1,320 yen)
Sea Serval Lefty's Rasberry Milk/Sea Serval Right's Blue Squash/Extra Serval's Pine Juice (800 yen)
Source: Mine Yoshizaki offcial Twitter, Parco press release
© Kemono Frinds Project ©PARCOARA