Premières sorties à l'international en 2018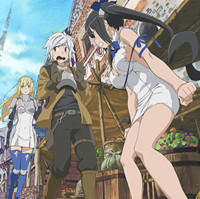 Le développeur de jeux japonais GREE a annoncé un accord passé avec Ellation, la maison-mère de Crunchyroll, afin de distribuer et promouvoir à l'international des jeux mobile basés sur des titres d'animés sous licence à partir de 2018.
Le premier qui sera distribué dans le cadre de cet accord sera le jeu mobile spin-off tiré de la célèbre série Is It Wrong to Try To Pick Up Girls In A Dungeon (DanMachi). il aura pour titre Is it Wrong to Try to Pick Up Girls in a Dungeon? MEMORIA FREESE (DanMemo). Le jeu a été lancé en juin dernier au Japon et il a déjà été téléchargé trois millions de fois, se propulsant ainsi le premier mois dans le top des ventes, tant sur l'App Store que sur Google Play.
Plus de détails seront donnés prochainement sur la disponibilité de ces jeux, notamment en Europe.