Her 2nd single from TMS Music will be released on September 26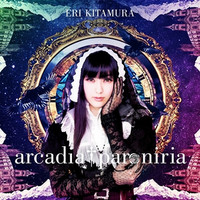 TMS Music, a music subsidiary of anime production company TMS Entertainment, has posted a two-minute music video for 30-year-old anime voice actress/singer Eri Kitamura's new single song "arcadia † paroniria" and a preview video for all three songs in the single. The single will be released in two editions in Japan on September 26, as her 2nd single from the label following "DiVE to GiG - K - AiM" in July.
Kitamura is best known as Saya Otonashi in Blood+ (2005), Miki Aono/Cure Berry in Fresh PreCure! (2009-2010), and Sayaka Miki in Puella Magi Madoka Magica (2011-2013). She is now voicing Shizuku Hazuki in NEW GAME!! and Ranko Honjo in My First Girlfriend is a Gal in this summer 2017 season.
"arcadia † paroniria" short version MV
All-song preview
First press limited edition CD jacket
Regular edition
Source: Eri Kitamura official website
CopyrightcTMS MUSIC CO.,LTD All Rights Reserved.