110mm-tall posable deformed figure will be shipped in March 2018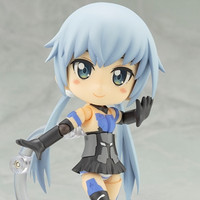 Japanese figure company Kotobukiya has listed the latest 50th entry from its posable chibi-style figure line Cu-poche, "Stylet Bare Body," inspired by one of the main FA girls in its popular model kit series Frame Arms Girl that features robot girls equipped with various armor and weapon parts. The figure's armed version was previously released in June 2017. In the TV anime adaptation this spring, she was voiced by Yu Ayase (Quetzalcoatl Sassassul in A Centaur's Life).
The 5,400 yen (about 48 US dollars) set includes her weapon Mega Slash Edge, three face parts (smile, nervous face, confused face), three optional hands (open, closed, fist, holding), a base, and a support pole set. Its scheduled shipping date is March 2018.
Cu-poche "Frame Arms Girl: FA Girl Stylet Bare Body "
【予約開始】キューポッシュ FAガール スティレット・素体|劇中でも使いこなしていたM.S.G「メガスラッシュエッジ」も本体に合わせてデフォルメ化。
パーツを差し替えることでセイバーとアローの2つのモードが再現可能!#FAガール https://t.co/yRmt6qwgoe pic.twitter.com/HT2iMzsMpq

— コトブキヤオンラインショップ (@kotobukiya_2han) 2017年9月28日
武装状態が楽しめる「キューポッシュ FAガール スティレット」も発売中!
本日案内の素体ver.とあわせてよろしくお願いします!https://t.co/AXQ62yUVUU #FAガール #キューポッシュ pic.twitter.com/IvmHCFWCR7

— コトブキヤオンラインショップ (@kotobukiya_2han) 2017年9月28日
Source: Kotobukiya
©KOTOBUKIYA / FAGirl Project