Franquia também recebe novo mangá Souten no Ken Re: Genesis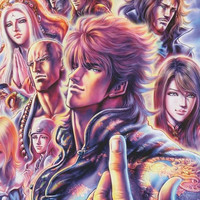 A capa da edição de dezembro da revista Monthly Comic Zenon, da Tokuma Shoten, está revelando nesta quarta-feira que um novo anime está sendo produzido para o mangá Souten no Ken (também conhecido como Fist of the Blue Sky), de Buronson, Nobuhiko Horie e Tetsuo Hara.
A animação está prevista para ser lançada em abril de 2018.
A revista também está lançando um novo mangá na franquia chamado Souten no Ken Re: Genesis. Buronson está creditado pela supervisão editorial, Hara com o trabalho original, Hiroyuki Yatsu cuidando dos roteiros e Hideki Tsuji está desenhando a obra.
Confira a capa e o anúncio da revista abaixo:
Buronson e Horie escreveram Souten no Ken com a arte de Hara. O título é uma prequela do mangá Hokuto no Ken (ou Fist of the North Star) e foi lançado na edição de lançamento da revista Weekly Comic Bunch, da Shinchosha, em maio de 2001 e continuou até a mesma finalizar a publicação em agosto de 2010. A editora compilou a série em um total de 22 volumes.
Souten no Ken inspirou uma adaptação animada de 26 episódios em 2006.
FONTE: ANN
---
Gabriel F Gonzales (ou apenas yushuu) é redator de notícias na Crunchyroll.pt, amante de livros e nerd desde criança. Pronuncie corretamente Cthulhu e siga-o no Twitter.