2,970-yen square cakes will start shipping in December 2017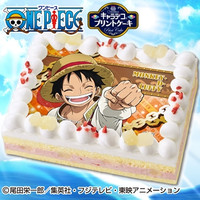 Bandai's official online store Premium Bandai today started accepting pre-orders for character-printed cakes featuring five characters from the One Piece franchise: Monkey D. Luffy, Roronoa Zoro, Sanji, Nami & Nico Robin, Portgas D. Ace, along with a special cake for the manga's 20th anniversary. They are the newest items from the company's "CharaDeco Print Cake" series that offers character cakes drawn with edible color inks. The brand previously released cakes featuring the characters from Love Live! Sunshine!!, Gintama, Girls und Panzer, Tiger & Bunny, and many other popular anime series.
The size of all cakes is 11x15x5cm and the price is 2,970 yen (about 26 US dollars). Pre-orders will end when the orders reach the prepared number. Shipping is scheduled to begin in December 2017.
Monkey D. Luffy cake
Roronoa Zoro cake
Sanji cake
Nami & Nico Robin cake
Portgas D. Ace cake
Manga 20th anniversary cake
Source: Bandai Candy Division press release
(C)Eiichiro Oda/Shueisha, Fuji TV, Toei Animation