"It must be very difficult unless they were played by Japanese actors."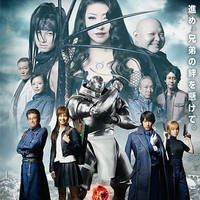 The 30th Tokyo International Film Festival (TIFF) has been held since last Wednesday. 53-year-old Fumihiko Sori (Ping Pong, Vexille) joined a special talk event on Sunday to talk about his latest film Hagane no Renkinjutsushi/Fullmetal Alchemist, a live-action adaptation of Hiromu Arakawa's internationally popular fantasy action manga to be released on December 1. The Ryosuke Yamada (a member of Japanese idol group Hey! Say! JUMP)-starring film will be also distributed in over 190 countries in the world, including the United States and Europe.
While the manga story is mainly set in a fictional world inspired by European countries and its culture, the main cast of the live-action film are all Japanese. According to the report released by Eiga.com today, Sori explained the necessity of the all-Japanese cast as below:
"The heart part of the original manga is perfectly Japanese, and the brother relationship between Ed
and Al is also unique to Japanese. It may be possible to recreate the manga characters' visuals in a
Hollywood's big-budget film, but the heart part must be shifted. I think it must be an ultimate choice
to decide which part should be given priority. But focusing more on the soul part, we reached the
conclusion that it must be very difficult unless they were played by Japanese actors."
"Principal photography was held in Italy. There were so many Italian fans (of the series) and they also
wanted the characters to be played by Japanese, saying 'Because it is a Japanese content.' By producing
it as a Japanese film, we can closely talk with the original creators, and it is surely going to be a film that
keeps respect for the original manga."
"We dug into the part that only live-action can do. Since it is a human drama, there is no reason that
human actors can't play. Even if it is an imagination world, the meaning to be played by real actors is
very significant."
As reported, the voice of Al in the film is voiced by 21-year-old actor Atom Mizuishi, who was originally
hired only as a motion capture actor for the CGI-created character.
"Initially, we planned to cast a famous person for the voice of Al. But the acting for motion capture by
Atom Mizuishi in a fighting scene was amazing and the dialogue between him and Ryosuke Yamada was
so fit with that between Al and Ed, so we couldn't replace him. I persuaded and apologized to all of the
'adult circumstances' in order to cast him."
"The anime was also based on the manga, and this film is not an adaptation of the anime. We have to create
brand new images. We provide new suggestions, and if the audience can accept it, it will continue to the next,
new Fullmetal Alchemist. So we tried to renewal it with courage and formed a new team."
[映画ニュース] 「鋼の錬金術師」曽利文彦監督が説く、オール日本人キャストの必然性 https://t.co/27KVbfHGVo #東京国際映画祭 #TIFFJP pic.twitter.com/hnPUHePjjv

— 映画.com (@eigacom) 2017年10月31日
---
English-subtitled trailer
Source: "Fullmetal Achemist" live-action film official website, Twitter
(C)2017 Hiromu Arakawa/SQUARE ENIX (C)2017 Movie "Fullmetal Alchemist" Production Committee